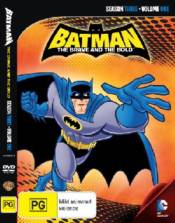 Batman the Brave and the Bold: Season 3 vol.01
Minotaur Code: DV1512
DVD - Blu-ray
$9.95
In stock
Join the Crusader and a wealth of DC's finest as they team up to battle injustice in Volume 1 of the third and final season of its cutting-edge series! Evil never sleeps in these diabolical schemes plotted by the world's most infamous criminals including the Joker, Bane and Equinox! Thankfully, Batman and his many allies, including Green Lantern, the Atom and Aquaman, are always up for the challenge! Circle this globe and others and even travel through time in these 6 action-packed, fun-filled episodes!

VOLUME 1 EPISODES:
Joker: The Vile and the Villainous
Shadow of Bat!
Night of Batmen!
Scorn of the Star Sapphire!
Time out for Vengeance!
Sword of the Atom!