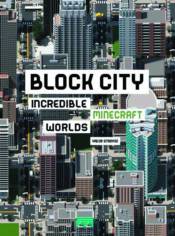 BLOCK CITY: INCREDIBLE MINECRAFT WORLDS SOFTCOVER
Minotaur Code: C44609
VARIOUS,
Comic Trade Paperback
$24.99
Out of stock. Will ship when stock arrives
Minecraft, a computer game about placing blocks, is a global phenomenon that has captured the imagination of more than 36 million players around the world. Often described as a digital version of LEGO, Minecraft offers an open-ended playing field where players design and build environments that others can explore. The most impressive and spectacular achievements in Minecraft design are its cities, which range in style from contemporary realism to fantasy, from historical to futuristic. The product of thousands of hours of work by devoted players, these virtual places are the envy of millions who aspire to master the skills to create them. Block City presents a collection of amazing Minecraft cities created by masters, with step-by-step tutorials for readers to build structures and features themselves.