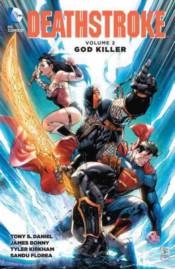 DEATHSTROKE VOL.02: GODKILLER SOFTCOVER
Minotaur Code: C46888
DANIEL, TONY S.
Comic Trade Paperback
$20.95
Out of stock. Will ship when stock arrives
Armed by Hephaestus with a dangerous new weapon capable of taking down an Olympian god, Deathstroke takes on his toughest assignment yet. But with heroes like Superman and Wonder Woman in his way, killing a god is nearly impossible, even for one of the deadliest men in the universe. Guest-starring Harley Quinn. This title collects issues #7-10, ANNUAL #1 and the Sneak Peek story from CONVERGENCE: BATMAN: SHADOW OF THE BAT #2.