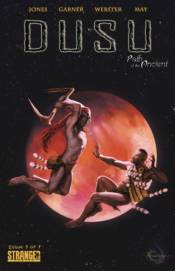 DUSU PATH OF THE ANCIENT #3 (OF 4)
Jones, Sebastian A.
Comic
$6.50
Out of stock. Will ship when stock arrives
Led by Delgoth, the Ancient of the Wolf, relentless hordes of Barbarians have devoured the Tribe of the Gathering Wind. The heart of Ugoma has been scorched, and Dusu and Waso must put aside their differences before all is left to ash and ruin.