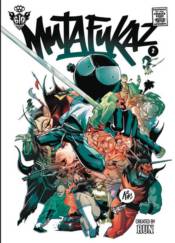 MUTAFUKAZ GN VOL 02 (MR)
Minotaur Code: C48354
RUN,
Comic Trade Paperback
$29.99
Out of stock. Will ship when stock arrives
The ongoing adventures of the two biggest losers in Dark Meat City takes us even further into the nefarious underworld! After escaping the chaos they caused in Palm Hill, the two most wanted men in the world are desperately trying to shake the Men in Black that have been following them. Which would be a lot easier if there wasn't a price on their heads. It's time to get serious!