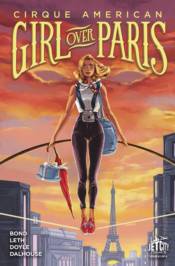 CIRQUE AMERICAN GIRL OVER PARIS #1 (OF 4)
Bond, Gwenda,
Comic
$4.95
Out of stock. Will ship when stock arrives
From bestselling writer Gwenda Bond (Lois Lane: Fallout), this four-issue comic book series, written by Kate Leth (Patsy Walker A.K.A. Hellcat, Adventure Time: Seeing Red) features a new stand-alone story set within the world of Bond's exotic, magical Cirque American. After a high-profile tumble, Cirque American's star wire walker, Jules Maroni, has a lot to prove-and her invitation to an exclusive exhibition in Paris looks to be just the opportunity to put her back on top. Unfortunately, the City of Lights glitters with distractions, including the presence of her first serious boyfriend and a mysterious figure haunting the venue.