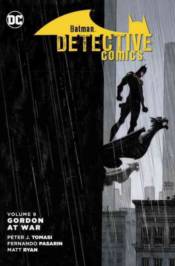 BATMAN: DETECTIVE VOL.09 - GORDON AT WAR HARDCOVER
Minotaur Code: C49370
TOMASI, PETER J.
Comic Trade Paperback
$34.95
Out of stock. Will ship when stock arrives
In these tales from issues #47-52, a case from Jim Gordon's past may decide the future of Batman. And Gordon must balance the new freedom he has as a superhero with his belief in the system he helped build.