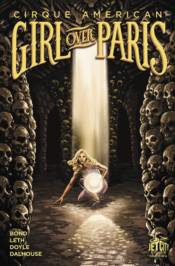 CIRQUE AMERICAN GIRL OVER PARIS #3 (OF 4)
Bond, Gwenda,
Comic
$4.95
Out of stock. Will ship when stock arrives
Jules Maroni's trip to the Parisian circus exhibition has hit a major snag: her boyfriend, trapeze artist Remy, has gone missing, and a mysterious Harlequin figure seems to hold the key to his whereabouts. Wire-walking Jules handles heights with aplomb-but her rescue mission will send her deep beneath the city streets to Paris's legendary 'undercity' catacombs. Cherchez l'homme!