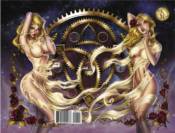 SOUTHERN NIGHTGOWN #1
Roth, J.P.
Comic
$6.50
Out of stock. Will ship when stock arrives
Southern Nightgown takes you back to the beginning and tells of the Legend of Alyeria. The twelve realms of the Elvonds, the god of time, doors through dimensions, dynasties and goddesses, hidden enchantments stitched into gowns and hidden deep in the earth, are all just part of this amazing world of mythology and mysticism. Under the blushed light of blood red moon the sisters called to the remaining powers of the Elvonds and beseeched a creature with incomparable strength to be the guardian of their artifact. He heard their call and acquiesced until a time when they would awake in human flesh and come to claim their treasure.