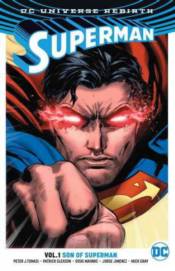 SUPERMAN VOL.01: SON OF SUPERMAN (REBIRTH) SOFTCOVER
Minotaur Code: C50792
TOMASI, PETER J.
Comic Trade Paperback
$23.95
Out of stock. Will ship when stock arrives
After the stunning events of DC REBIRTH, the world is left without Superman! Luckily, there is another Man of Steel to fill his shoes: the pre-Flashpoint Kal-El! However, can this new Superman protect the world while raising a super-son with his wife, Lois Lane? And should they help their boy use his new and rapidly increasing abilities, or hide them from the world? Don't miss these stories from SUPERMAN: REBIRTH #1 and SUPERMAN #1-6!