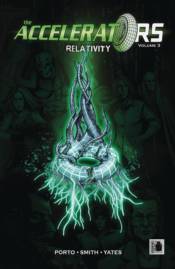 ACCELERATORS TP VOL 03 RELATIVITY
Porto, R.F.I.
Comic
$22.50
Out of stock. Will ship when stock arrives
Our heroes have been scattered across the timeline, and must find a way to reunite. Spatz has been stranded in a distant future controlled by an insane gang of Time Criminals, with no chance of escape. Meanwhile, the rest of the group arrives at the mythical 88th Century, where they meet an older version of Spatz, who seems to have gone completely insane. How many Spatzes are there, and what do they really want? Collects The Accelerators #11-15.