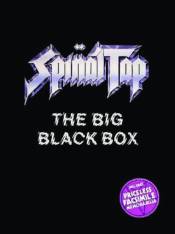 SPINAL TAP BIG BLACK BOX
Minotaur Code: M0314
Book
$49.99
Out of stock. Will ship when stock arrives
Spinal Tap: The Big Black Box brings to the public, for the very first time, the story of the band in words, pictures and removable facsimile memorabilia. Turn your bookshelf up to 11 with this fully authorised publication. The book tells the story of the band, from the early days as The Originals, then The New Originals and The Thamesmen, before they settled upon Spinal Tap, and then their swift rise to fame and fortune, before their audience becomes "more selective", and crowd sizes dip.

On the verge of splitting, the band hit number one in the Japanese charts, and on the story goes. Lifelong friends Nigel Tufnel and David St Hubbins are profiled, alongside long-time bassist Derek Smalls and keyboardist Viv Savage. Those close to the group are featured, including Ian Faith, Jeanine Pettibone, Sir Denis Eton-Hogg, Bobbi Flekman, and Artie Fufkin.

All of Tap's records are reviewed, from the early skiffle sounds of 'All the Way Home' to the deep, meaningful 'Sex Farm', and including the experimental 'Jazz Odyssey', crowd favourite 'Gimme Some Money' and even the groundbreaking 'Break Like The Wind'. This book lets you look at, touch, feel - and maybe even smell - Spinal Tap as you have never looked at, touched and smelled them before.