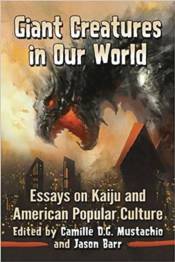 GIANT CREATURES IN OUR WORLD SOFTCOVER
Minotaur Code: M0942
MUSTACHIO, CAMILLE D.G.
Book
$39.99
Out of stock. Will ship when stock arrives
Dismissed as camp by critics but revered by fans, the kaiju or 'strange creature' film has become an iconic element of both Japanese and American pop culture. From homage to parody to advertising, references to Godzilla - and to a lesser extent Gamera, Rodan, Ultraman, and others - abound in entertainment media. Godzilla in particular is so ubiquitous, his name is synonymous with immensity and destruction. In this collection of new essays, contributors examine kaiju representations in a range of contexts and attempt to define this at times ambiguous genre.